Scientific name:
Hemigrammus bleheri
Family:
Characidae
Common Names:
Firehead tetra
Natural habitat:
Colombia and Brazil.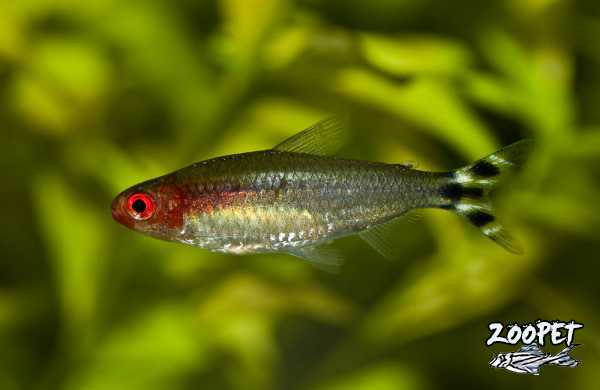 Photo © Christian Alfredsson
Omnivore. Eats in aquariums all standard food.
It is not as easily bred as many of the other tetras. It is an egg-scatterer that ideally spawns in shoals among fine-leaved plants. The eggs hatch after 28-36 hours and are swimming freely after 4 days. The fry are very small.
The is a peaceful, lively shoaling fish that fits in most communitytanks. However, it is a somewhat fragile species that places quite high demands on the water (pH, temperature, etc.) One should use a water chemicals in case of water changes.
A suitable aquarium contains some plants and has a not too bright bottom.
Males are more slender than females, which are slightly rounder, especially during the spawning period.
It is often confused with
Hemigrammus rhodostomus
and
Petitella georgiae
.
H.bleheri
has more intense colours than both others.
---